We provide market size and forecast estimates for many clients, including Microsoft, Cisco, Qualcomm, HP, Motorola, Med-Systems, SPAWAR, Edgewave and ViaSat (from start ups to Fortune 500 companies). Our 15 years of experience has created an extensive collection of databases, information, data models and resources to create accurate, reliable, and low cost custom market forecasts and market sizing estimates that drive important business decisions. When sizing a market there are four type types of market size estimates that need to be considered, all with different objectives: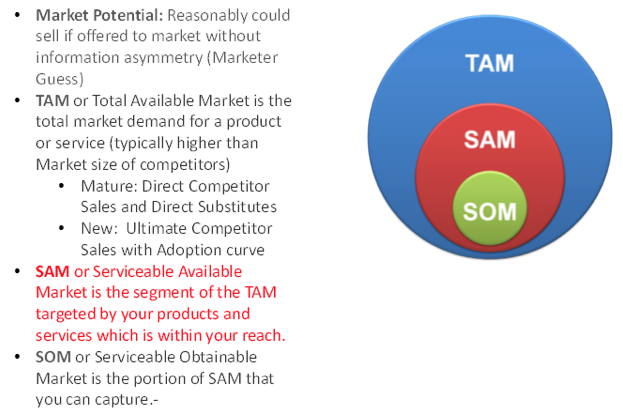 Our methodologies are cost effective and typically use a combination of secondary and primary research with information verified through multiple sources. Our process can provide complete, accurate estimates in as few as 10 business days. A summary of our process is as follows:
Phase I: Data Collection
An example of some of the sources that we use are:
SEC Filings
Analyst Reports
Market Research Reports
Prior Market Studies
Trade Publications & Associations
Published Reports
Experts
Analysts
Industry Leaders
Government Databases
Editors of Key Publications
Many more public and proprietary sources of information
Phase II: Convert Data into Forecasts (Analysis)
We convert the data into forecasts by applying a variety of models and powerful forecasting tools (such as the Bass Diffusion model) as well as using information from comparable products or services. Our process leads to accurate and reliable estimates and all assumptions are well documented.